Vantage Point Foundation is prioritizing the safety of volunteers in light of the COVID-19 pandemic. We will ensure that proper social distancing measures are taken during all community service projects, and request that all volunteers wear appropriate PPE when participating in volunteer activities.

Our Still Serving Program provides opportunities for veterans to continue to serve their community after returning to civilian life. 
As a service member, it is in your DNA to serve; that's how you're wired. Vantage Point Foundation simply gives you an outlet to fulfill that purpose.
Vantage Point Foundation also welcomes civilian volunteers. There's no better way to show your gratitude to those who served our country overseas than to serve your community alongside them.
Benefits of serving:
Better serve our community by addressing the needs of others

Promote healthy relationships with individuals sharing similar values

Camaraderie between veterans and civilian members of the community

Create new connections amongst neighbors

Establish a vision for transitioning veterans' skills to where they are needed in the local community

Gain a sense of purpose that goes beyond a 9 to 5 job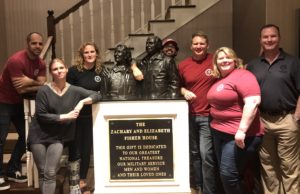 Vantage Point Foundation works with corporate businesses, schools, religious groups and other organizations throughout South Carolina on specialized volunteer work. Volunteering with VPF helps your team give back to your community, while creating leadership and team-building opportunities for your employees. 
Each partner organization is paired with a member of VPF's Still Serving Leadership Committee to facilitate volunteer opportunities throughout the year. Partnerships are established on an annual basis and are available in each region that VPF serves across South Carolina.
If your organization is interested in partnering with Vantage Point Foundation for volunteer opportunities, send us an email at [email protected].