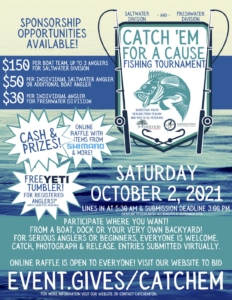 Join us for the 2nd Annual Catch 'Em for a Cause Fishing Tournament benefiting youth healing from trauma and post 9/11 veterans on Oct 2nd 2021! This is a Catch, Photograph & Release Tournament. Entries will be submitted virtually. ???
This fish-in-place event allows anglers to participate where they want whether it be from a boat, dock, or your very own backyard! Anglers in the Lowcountry and Beaufort are welcome!
Serious Anglers to beginners, everyone is welcome. Lines in at 5:30 am & submission deadline at 3:00 pm.